The History Of The Aussie in the UK by Brenda Brown
For a copy of the ATCGB Newsletter click here.
Brenda Brown wrote an article on "People in the Breed" for the ATCGB's 1993 handbook with an updated and more thorough article on the same subject for the 2003 handbook. Brenda has been involved with Australian Terriers for over 40 years. Still very much active in the breed, she is the Australian Terrier Club of Great Britain's Honorary Secretary and has held that position since 1995.  She leads a yearly pilgrimage to Crufts that is eagerly anticipated each year by exhibitors and their dogs as well as spectators.
The History of Aussies in the UK by Brenda Brown
My husband, Bill, and I have extensive records here at Ralindi going back to 1933, the year that the Australian Terrier breed was officially recognized by The Kennel Club. The ATCGB, founded in 1929, was officially recognized by The Kennel Club in 1933 making 1933 a pivotal year in the annals of Australian Terrier history in this country.
The first Aussies came into the UK in 1896 with Mr. Hew Millburn who entered three of his Aussies at The Kennel Club show in 1906. Our records indicate that he showed two of them. Around that same time the Governor General of Victoria, who was later to become Lord Hopetoun, returned to the UK bringing a male Aussie back with him. These two gentlemen are credited with introducing Australian Terriers to our country. (My daughter, Lorna, has a contact at Hopetoun House, a stately home near Edinburgh located not far from us. Lorna asked her contact about the Australian Terrier but, sadly, no record of this dog was found.)
Mrs. J. R. Wood did a great deal to promote Aussies by showing them and actively seeking publicity for the breed. She even had show results for Aussies telegraphed to Australia! She sought recognition for the breed with The Kennel Club in 1908 but there simply were not enough Aussies in the UK at that time to get that official recognition.
More Aussies then came into the UK from both Australia and India. There were a great many Australian Terriers in India in the 1910s and 1920s and Challenge Certificates were on offer for our breed in India during those years. (Challenge Certificates are the major awards given to the top winners of each sex at conformation shows.) The Aussies being imported into the UK at that time came in mainly on ships sailing here from India.
The Earl and Countess of Stradbroke brought Aussies back to the UK after each of the Earl's two terms of office as Governor General of Victoria ended. The Earl and Countess worked extremely hard to promote our breed and to get a number of people involved in Aussies. This was a very concerted push to gain official recognition for Australian Terriers and by 1933 there were enough Aussies registered with The Kennel Club to gain that much sought-after recognition and, with it, Challenge Certificates, i.e. championship status.
The first Australian Terrier to become a champion in the show ring was Ch. Sam of Toorak, born in August 1930, owned by Miss Jenny Rodocanachi. He was a drop-eared Aussie, a fact that was perfectly acceptable in the Breed Standard at that time. The second champion in the breed was Sam's full sister, Ch. Sally of Toorak, born in February 1931 and owned by Miss Daphne Rodocanachi. Sally was a prick-eared Aussie.
The Rodocanachi's Tooraks and the Earl and Countess of Stradbroke's Henham Aussies were the two most successful kennels in the show ring in the early years following The Kennel Club's recognition and championship status. At that particular time the nobility and wealthy people owned Australian Terriers, as they were the only people who could afford to import dogs from Australia and India. Because people were importing Aussies from various different kennels in both countries breed type was quite varied, so the Earl and Countess decided it was high time they did something to fix breed type which they did, in fact, achieve.
Mrs. Anna Stillwell imported Ch. Torres Blue Jacket from Australia which did much to improve breed type. Other early owners included The Honorable Mrs. Bassett (Majiga) and The Honorable Wilhelmina Alexander (Faygate) whose father was Sir Claude Alexander. Sir Claude first met Aussies in their early days and he used Aussies in an (unsuccessful) attempt to recreate the old Clydesdale Terrier. Mina Alexander owned Aussies right up to the time of her death in the 1980s.
Cruft's
The exhibitor on the far left in the pic from Crufts is Rene Sanderson of the Spenmoss Aussies.
The first sandy Aussie arrived in 1938 when Neville Dawson (Master of Foxhounds) imported a sandy bitch in whelp from Australia. She produced a litter of sandy and red puppies, which established those colours.
During World War Two breeders farmed out their dogs to various parts of the country in an attempt to preserve the very best breeding lines, which they managed to achieve successfully, so much so that after the war ended good breeding stock was still on the ground to carry on producing quality stock.
A red dog called Ch. Dandy of Zellah, born in 1940, proved to be hugely influential as a stud dog when breeding began again after the war. He went to Miss Evelyn Swyer in 1947 and he really took her Elvyne Aussies to the fore in the show ring. There were many Elvyne champions over a good many years, particularly in the 1950s and 60s, and Elvynes were exported to various countries, including Australia (yes, Australia!), Denmark and the USA. The dog, Elvyne Regal Salute was an early import for the breed in the USA, imported by Nell Fox.
Nell Milton Fox imported three Aussies from Evelyn Swyer in the very early days of Aussies in the USA, namely Am Ch. Elvyne Regal Salute of Pleasant Pastures CD Ex, Elvyne Blue Taffeta of Pleasant Pastures and Elvyne Betty's Toff of Pleasant Pastures. Regal Salute's dam, E Red Sunset, was born in March 1954 and his sire, E Red Sporran, was born around that time too, as he won a CC in 1956, although we don't have an actual date of birth for him. Elvyne Blue Taffeta was the dam of Cooees Straleon Aussie, the very first Aussie champion in the USA.
Mrs. Winifred Dunn's Dunhall Aussies were very successful in the 1950s and 60s and Joan Garlick's Tippon Aussies were another successful kennel. Harold and Irene (Rene) Sanderson's Spenmoss Aussies were hugely successful, winning many Challenge Certificates (known as CCs), particularly in the 1960s, the 70s and the 1980s. One of their Aussies was G2 at the Blackpool Championship show. That was a huge achievement for the breed as Aussies were very rarely considered for top honours in the Group in those days.
There were of course other Australian Terrier kennels but, post-war, the Elvynes, the Dunhalls and Spenmoss were by far the most successful kennels in our breed. They take us up to Sheila Eardley's Sherex Aussies which began in the latter part of the 1960s. Her son Paul was a small boy at that time but in the 1970s he often handled his parents' Sherex Aussies. Sheila owned a couple of Ch Aussies in the 1980s, co-owning a further Ch in much more recent times.
Mrs Win Pearson's Rivelin Aussies were another very successful kennel campaigning a number of Aussies to their Ch title in the 1970s and 80s. Win had the distinction of winning the Bitch CC at Crufts for three years in succession with the same bitch. She also exported quite a few Aussies to Canada over a period of time and she was Hon Secretary of the ATCGB for teens of years.
Ralindi kennels started out in January 1970 and it was this kennel which owned the bitch record-holder in the breed for teens of years. Ralindi was a very successful kennel in the 1980s with a number of Ralindi Aussies gaining their Ch titles.
Brenda and Bill Brown and their daughter, Lorna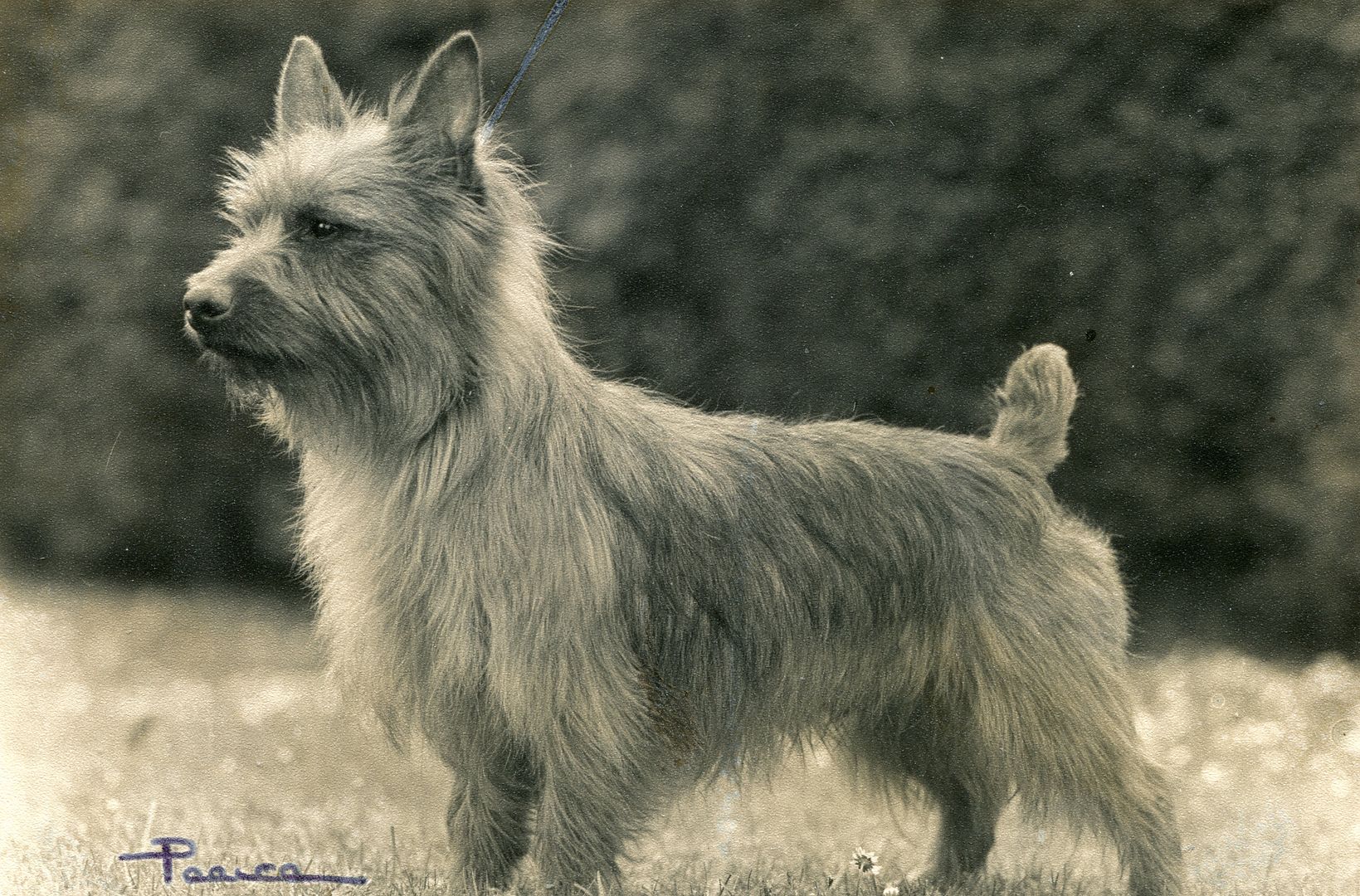 Ch. Ralindi Impact Maker   Born: 1985 Photo: 1988
Full Litter Mate to Ralindi Islay Mist
Photographer: Diane Pearce
The next longest-serving breeder/exhibitor still actively involved in our breed began in the 1980s.
Lynn Bell came into the breed in the early 1980s. Lynn campaigned three Aussies to their UK championship titles in the late 80s and the 90s, plus one further Ch she bred and which she co-owns who is now a veteran. Lynn was the first person in the UK to show Aussies in Europe. She campaigned two of her Belyndi Aussies to their Belgian Ch titles, one a bitch she bred herself and her other Belgian Ch is a male she imported from Esther Krom's Shastakin kennel in the USA. Lynn imported four Aussies from Shastakin. She was Chairman of the ATCGB for a few years in my early days as the Club's Honorary Secretary and she was our Newsletter Editor, Handbook Editor and a brilliant PR Officer.
The late Brian Hodgson and his wife Velma's Brimartz Aussies also started out in the early 80s and they had the most successful kennel in the 1990s. Several Brimartz Aussies were campaigned to their Ch title and one of their bitches was Reserve Best in Show at the National Terrier Club's annual Ch show. The late Dorothy Snook and her daughter Felicity of the Pitcombe Aussies imported an in-whelp bitch from the Tahee Kennels in NSW and from that litter they kept a dog and a bitch who both had a successful run in the1990s. They also imported a dog from NZ and both he and his son became champions in the breed.
Paul Eardley also imported two Aussies from the Tahee Kennels, taking both to their Ch titles and he also campaigned a son and a daughter from these two imports to their Ch titles.
Sheila Stoddart's Millvalley Aussies came to the fore in the latter part of the 1990s. Sheila has the distinction of owning the first-ever Aussie to win a Group at an all-breeds Ch show in the UK which she did with Ch Dinky Di Southern Cross, a bitch she imported from the USA. I'm delighted to say I was part of that history-making day – I judged our breed at that particular show!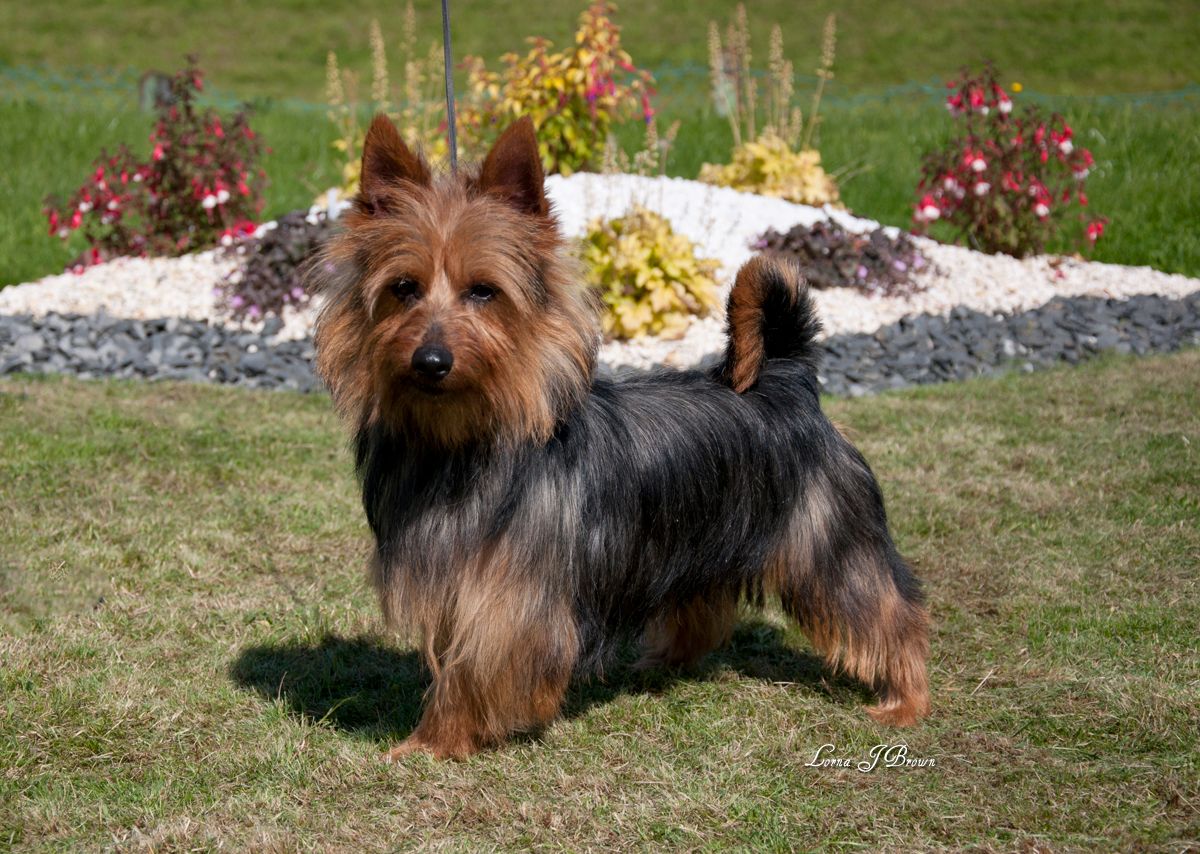 Millvalley Blue Dash    Photo By: Lorna Brown
Sue McCourt (Silhill) acquired two bitches from Millvalley and these two reds became the foundation for her Silhill Aussies. Sue bred her very first litter of Australian Terriers in 2004 and this kennel has gone on to become hugely successful in the UK.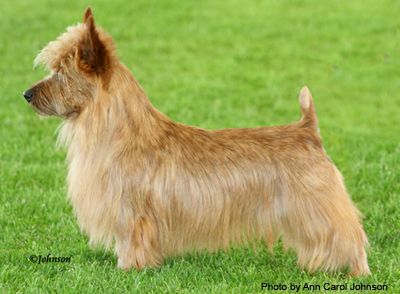 GB CH Silhill Tufty With Sherex – Top Aussie 2008
Photo: Ann Carol Johnson
Paul Eardley has the distinction of owning the first-ever Aussie to win Best in Show all-breeds with a Silhill-bred dog and Sheila Stoddart has the distinction of owning the first-ever Ch and Am Ch Australian Terrier.
And that, as they say, brings us right up to the present!
Photographs of early Aussies in the UK belong to the ATCGB and are copyright-protected. The Club bought them from Thomas Fall, Photographers, a number of years ago.